Finding a name for your new horse can be as difficult as finding the perfect name for your newborn child. Although there are thousands of options available, choosing a name that suits your horse's personality might require some thought and research. Read the following tips which can make equine name selection easier for you.

Know the breed registry restrictions in naming horses. Do some research about the registry regulations before thinking of a potential name for your horse. Nothing could be more frustrating than setting your heart on a suitably worthy name for your horse which you can't actually use. Different equine clubs and societies have varied standards for naming a horse. Adhere to the rules set by the club or society you choose if you want to go through the entire registration process smoothly.

Consider the pedigree of your horse. Does your horse have Norwegian roots? Then investigate Norwegian names and their meanings and choose the best moniker for your horse. If you don't have time to do any research, simply name your horse after his parents, using their registered names. You can also combine his parents' individual names to come up with a new and unique name.

Consider its appearance and the activities your horse is involved in. You can name your horse after his physical features. If your horse appears radiant in his pure black coat, name him Black Beauty or Black Knight. Does your horse take part in racing or other competitions? Choose a striking name that best describes his personality or performance during tournaments. You can also choose a funny and interesting name that people will enjoy. Read this infographic from Horseland to discover the funniest names that were invented for race horses.

Think of a name that is easy to remember.

Remembering all your horses' names can be quite challenging if you have ten or more mares, stallions and ponies under your care. In this case, consider giving each of your equine companions complementing or rhyming names. For example, "Mandy", "Mary" and "Murphy" sound similar without being exactly the same.

Some equine lovers believe that horses eventually take after the meanings of their names. Therefore, it is important to give your horse a name that represents positive qualities, superior health and everything that is good. While there can be a grain of truth in this belief, the keys to having a well-rounded horse are good grooming and proper training.

Click here

to discover products, tips and other resources you will find useful in raising your gentle giant.

There is no such thing as a perfect husband (or a perfect person). So we're born to make mistakes without us knowing it. However, this doesn't give us the license to be mindless of the wrong things we do to our wives. Here are is a short list of awful things we could be doing - knowingly and unknowingly - to our lifetime partners which we must quit doing right away.

Being critical - If it's easier to notice your wife's mistakes over her good deeds, now is the tine for you to have a change of heart and mind. Constant criticism will make her feel that she's good for nothing. Be intentional in complementing her good works when you feel the urge to criticize her again.

Being a control freak - What you know and think are not always right. This means your wife can make her own decisions without your help or permission. So don't control her actions and way of thinking. Instead, get into the habit of discussing things with her.

Being an absentee husband - Are you too busy to text her or to give her a call? Well, this might be the time for you to change your mindset or attitude. Be intentional in sparing a few minutes during your break time to call or send her a message. Don't go straight to your bed when you go home. Sit with your wife and share to her how your day went, your thoughts, your worries, and your funny experiences.

Using dirty language - Remove dirty language from your vocabulary. Learn to use gentle words in expressing your feelings. Use of dirty language can cause embarrassment to your wife and children. Use kind words when speaking with your wife and you will be surprised to find her more responsive.

Viewing pornography - This habit makes your wife feel cheap and this can cause your marriage to break eventually. If you're addicted to it, find a counselor who can help you flee from it.

Setting high of expectations - Do you have unrealistic expectations for your wife? High expectations can lead you to criticizing your wife more. Focus on her positive qualities and praise her for her good deeds. As a result, your wife will naturally start living up to your positive compliments all the more.
Powered by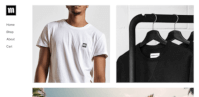 Create your own unique website with customizable templates.