Being a provider and a rock for our family are the toughest roles we dads do all the time. With all the responsibilities to these roles, it is impossible for us not to get stressed out at any rate. Stress can cause to be grumpy and to be ineffective heads of the family. We need to de-stress in the best ways we can in order to be available for our families now and forever.

Have a confidant. It's not healthy to keep all your thoughts about parenting to yourself. You should have someone with whom you can your laughter and pains besides your wife. A 'go-to-friend' should be someone you trust and someone whose opinion about everything matters to you. This person could be a relative, a churchmate or anyone from your neighborhood or workplace whom you respect.

Sweat it out. Sweating is an effective way to release all the toxins in your body that cause you to be stressed. You need not spend a lot on a gym membership just to workout. You can exercise at home early in the morning before you go to work. There are lots of workout videos available in YouTube. Play and follow them at your own convenient time. You can also run and play with your kids at the park or at your backyard. This will make you sweat a lot while having a great time with your children.

Laugh. Laugh and goof around with your kids. You can also watch funny videos with your wife during your free time. Laughing relaxes your facial muscles. Laughing also help you have a different perspective in life.

Find a project or hobby. This can be very challenging when you have kids to care for all the time. If it's impossible for you to have a me-time where you can execute your hobby, find things which you can do with your kids. You can engage in carpentry or pottery with your kids. Creating something will help you forget current problems and causes of stress in your life.
Powered by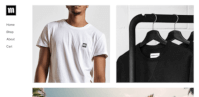 Create your own unique website with customizable templates.